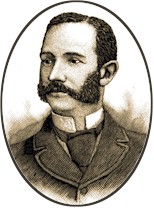 Joshua Glover, fugitive slave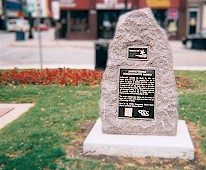 Underground Railroad Marker I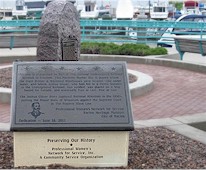 Underground Railroad Marker II
Underground Railroad Network to Freedom
Professional Women's Network for Service, Inc. (Formally Racine Chapter of The Links, Inc.) and the Racine Heritage Museum have partnered for over fifteen years in detailing the Underground Railroad Movement. Together we have made the greatest impact to make our community aware of its rich legacy.
The U.S. National Park Service and its Underground Railroad Network to Freedom Program approve Racine's Underground Railroad Markers.
In 2003, the Underground Railroad Marker I was placed on Monument Square — it honors the Racine Citizens who went to assist fugitive slave Joshua B Glover, who was courageous and determined to be free from slavery. In 2002, The Network to Freedom Program approved the Racine Heritage Museum as an Underground Railroad Resource site. The Network for Freedom Program has endorsed Ruby West Jackson for her project about Caroline Quarrels, another fugitive slave who made her way through Southeastern Wisconsin to Canada.
In 2007, the Underground Railroad Marker II was placed at the Racine Harbor at Gaslight Point — A Racine Maritime Connection commemorating warehouse-owner Archer Dutton and fugitive slave Joshua Glover.
Underground Railroad Trails Sites
A major goal of Professional Women's Network for Service, Incorporated, is to ensure that as many trails sites as possible meet the exacting standards required for designation as part of the National Underground Railroad Network to Freedom. The Network is a National Park Service initiative identifying key Underground Railroad sites, programs, and facilities as "cornerstones of our national civil rights movement".